Skullcandy was started by Rick Alden in 2003, and it has quickly exploded in popularity. In just seven short years, the company has become one of the most innovative brands in the world. The funny part is that their success isn't even attributed to sound quality.  Sure, Skullcandy does deliver great sound, but the success of the company lies on its decision to take the middle path. Skullcandy offers stylish products. The company adopted a hip-hop/skate culture theme for its products; therefore, the gear reminds you of city life.
Skullcandy sells a variety of products that range from sound docks and headphones to t-shirts, backpacks, belts, and miles of other accessories in between.  The culture does not simply stay on the streets, though.  You can see Skullcandy products designed for biking, surfing, skiing, motocross, waking, and snowboarding. The greatest products Skullcandy sells, however, are earbuds.
Skullcandy has pioneered an unmatchable trend in the market for selling stylistically designed earbuds that are all the rage.  They are also very affordable. Most of the cost gravitates around the price range of $20-$100 for earbuds. If you're an audiophile, then Skullcandy may not be the best choice for you. The sound doesn't measure up to the sound found in earbuds made by higher end earbud manufacturers such as Monster, Bose, Shure, Denon, and the like.
All of this, however, is for a great reason. While the other brands focus on luxury, Skullcandy focuses on activity. Most earbuds are made so that they can be enjoyed in a comfortable level of motion, or lack thereof; however, Skullcandy's earbuds are made for those who live very active lifestyles. It's not the greatest idea to use a $300 pair of Ultimate Ears while skateboarding. Skullcandy, therefore, gives you an alternative. The company has deliberately made its products more affordable because it has the renegade in mind. There is honesty in the craftsmanship of the products; i.e., Skullcandy realizes that earbuds do get damaged due to overuse and contaminants such as sweat and debris. For somebody who simply wants to use the products for leisure and style, a pair of earbuds can last for months. For somebody who wants to shred with jams, the lifespan of the earbuds can be considerably shorter. As a result,  Skullcandy offers a lifetime warranty on all of its earbuds. In the event that the earbuds should break,  Skullcandy offers you a 50% discount on your next pair of equal or lesser value.
Imagine if someone offered such a warranty on skateboard shoes!
There is a whole collection of earbuds you can choose from when shopping Skullcandy. If you want some throwaways, you can settle for the Ink'd Buds. They retail for $20, and their sound is comparable to the overprice $40 apple earbuds. As a matter of fact, if you want a nice pair of earbuds that give you the raw Apple sound at an affordable price, just buy these instead. They are far more comfortable, and they also look sexier. These are definitely two huge wins in our book.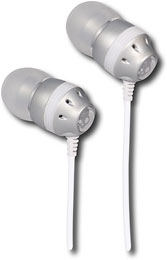 A step up from these are the Smokin' Buds. The Smokin' buds are the entry level earbuds for those who care more for sound quality and style than those who want throwaways. The earbuds sound great, but they are still limited in power. If you can afford it, definitely spend five dollars more to get the Titans. It's not that the Smokin' buds are bad- they are considerably better than the Ink'd-, but if you're going to spend $30, why not just spend a little extra to get something that sounds so much better?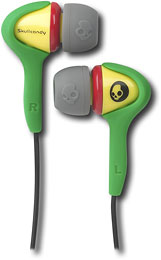 The Titan Earbuds retail for $35.00, and they are considerably better sounding. They have the appropriate sized drivers (11mm) for a great delivery of music.  The bass isn't all that astounding; however, it definitely delivers a nice punch. You will be happy with these for quite a while. The titanium look gives the earbuds a more professional look.

Now, if you are somebody who likes to have a very active approach to life, and you do not care too much for sound quality, then you may wish to mix the Ink'd into your lifestyle in a special kind of way. The Chops Hanger earbuds are excellent for those who simply want to have stylish earbuds that do not fall off of the ears whatsoever. These are great for those who are going to be skateboarding, rollerblading, or playing in team sports.  They retail for $25 dollars, and they are built with over-the-ear-clips so that they don't fall out of your ears.

There are many other styles you can choose from, and they can all be found at Skullcandy.com. Check it out!